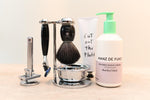 DeckOut Series: Shaving done right
Shaving, when done right doesn't have to be complicated. Let's break it down for you.
Choosing the right equipment - one blade, 2 blades, 5?! What's the difference between having more or less blades; having multiple blades may make cutting hair feel easier as of course it covers more surface area, however, it causes more blade friction which can irritate the skin causing redness and bumps! Now it may take some time to truly perfect the art of a safety razor, but once done – the closeness of the shave will be second to none which can never be replicated by other razors. Leaving your face as smooth as the day you were born.
Our recommendation would be MÜHLE Traditional Razor which provides safe, yet very close and precise shaving that even beginners can master with confidence. Saving the earth – one less shave cartridge at a time & saving your skin. You'll thank me later, and the environment will thank you now.
For tips and tricks on how to use a safety Razor from MÜHLE here.
To brush – or not to brush?
Having a shave brush may not be seen as a necessity to most – especially if you're only shaving your face, however by spreading shave creams with a brush, you not only need to use less shave product as the brush helps to distribute cream more evenly and helps to soften hair, not only great for faces! While brushing your skin gets warmer opening up pores while gently exfoliating dead skin cells. Which in turn, gives the shave less blade friction as you wouldn't be standing there fighting hairs off yourself.
Get more out of products when using the right brush! For that reason our recommendation for shaving brushes would be the Imperial Barber Travel Shave Brush.
Feelin' like taking off though? Well, we've got MÜHLE Shaving Brush. No matter where life takes you, you'll be smiling from cheek to cheek when you feel the massaging effect of the finest, genuine badger hair. German engineering at its finest.
Non-foaming Shave Cream
Alternatively – if you're skipping the brush, and some time off your routine, you can try these shaving creams that will change your life. These non-foaming shaving creams can be applied directly onto your skin.
There's a ton of benefits using non-foaming shaving creams. Firstly it give a closer shave as the space between the razor and skin is lessened, what that means is that it reduces the razor friction leaving your skin less prone to ingrown hairs and red-bumpy rashes. Secondly, natural ingredients are used in most formulations as no petroleum needs to be used for foaming – making it great for travel as it is compact and no brush is required! 
For that we have the perfect solution for you – we would recommend Hanz de Fuko Invisible Shave Cream – now if you're looking to perfectly shape your face with an amazingly shaped shave this is perfect for you as you can see what and where you're shaving! This non foaming invisible shave cream prevents the occurrences of ingrown hairs, great for shaving any part of your masterpiece of a body.
Another excellent recommendation would be Doers of London Shave Cream, whilst the skin is being damaged by razor friction – it soothes the skin by relieving inflammation and redness. All while moistening and regenerating the skin. An amazing non-foaming shave cream made for every Doer out there.