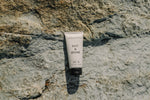 Wear sunscreen, even "without" Sun.
Most people think that one should only invest in sunscreen seasonally, or occasionally when your skin is cooking whilst lounging at your favourite beach club or glistening whilst playing tennis or golf. It's time to start thinking differently.
UV exposure is everywhere and is around all the time, even when you are indoors. To be fair, you aren't going to be burnt to a crisp, but you sure aren't helping your cells by leaving your skin unprotected. UVA rays are consistent no matter how the sky may look, all year round and those rays do a tremendous job at damaging collagen and elastin, ageing skin more than smoking or binge drinking.
UVA and UVB sun screen protection 
The solution? A natural, broad-spectrum sunscreen to combat both UVA and UVB without loading chemicals and synthetics on your skin. Enter Salt & Stone's SPF 50 Face Stick.
Salt & Stone's SPF products are incredible because they use Non-Nano Zinc Oxide which blocks all harmful rays in the healthiest way.
Benefits of using Non-Nano Zinc Oxide in sun screen
The benefit of using a non-nano zinc oxide in skin products is that the particles are too large to absorb through the dermis and into the bloodstream.
With ingredients like Hyaluronic Acid, which is naturally produced by the body to keep skin moist. Keeps your skin looking and feel more supple. Salt & Stone SPF lotions also include Avocado oil – which is a great natural antioxidant and anti-inflammatory moisturiser and Rosehip Oil – which brightens skin and evens out skin tones!
Why should you use tinted sunscreen?
On top of all these benefits, the SPF 50 Face Stick it has a light tint that enhances your skin's natural complexion whilst still giving it the fullest protection along with Vitamin E extracts, which encourages skin healing and reduces scarring. For maximum results, you can also pair it with Salt & Stone's Facial Lotion or Facial Oil for the perfect combination during the day. Stay protected, stay hydrated, stay Decked.