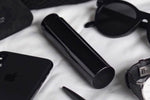 The right way to get noticed!
How to choose the best fragrance:
Perfumes are tricky, unless you're a seasoned veteran, it can be hard to understand – let's break it down for you - they come in five basic types: Perfume, Eau de Perfume, Eau de Toilette, Eau de Cologne, and Eau Fraiche.
Each of these types of perfume are basically just an indication of the concentration level of the product found in the bottle and says nothing about the brand or the fragrance notes found in the perfume.
Perfume being the highest percentage of perfume extracts. Now the higher the grade – the longer it'll last.
However, not all perfumes are made equal. Scent notes may not match, being uncomplimentary of each other, leaving you confused, like what the heck was that and just because something has a higher percentage does not always mean it's superior.
We recommend to keep things fresh with a day and night scent – which will keeping em' guessing.
Higher concentration does not ensure quality, it may be too musky leaving you and those around you 'choking' on the fragrance. Not to mention there is finding what you like and don't get me started on what other people will be attracted by is a whole new ball game.
What if I told you that ticking all the right boxes, with attraction and satisfaction has never been easier?
Just picture yourself during the lunar surface on a Saturday night, looking fly in silver and white whilst smelling like a million dollars. We've got your Deck sorted on recommending just the right products. 
The scent game, over shadowy and exactly the wrong notes in most. Not to mention they're huge in terms of size. You can't sneak a quick pump halfway throughout the day or on an epic night out. Most scents share the same few notes which is why no one stands out, oversharing in all their bitter aftertaste.
Start to stand out, with Scent by SIX!
Made in collaboration with world-renowned perfumers that's friendly for travel and your wallet. Leaving the troubled metropolis ablaze in the rear view whilst heading towards absolute immersive scents that'll draw everyone in.
Eu De Toilette, the perfect middle ground – for you to use it when it truly matters, and if that's always, then well, they come in travel friendly sizes so you can use it when you need it most, fits in pockets and hand bags where all you have to do is twist the cap to step into a new world.
Caring for the environment with eco-friendly refill packs. Proudly Singaporean, staying Decked.