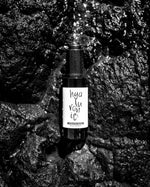 Hyaluronic acid Serum - the benefits and how it works
Serum is a skincare product that delivers powerful ingredients directly into the skin. It is made up of smaller molecules that can penetrate deeply into the skin and deliver a very high concentration of active ingredients. If you are starting to feel the aches that comes with age then it is probably time to consider the implications when it comes to skin care as well. The facial serum is no "polyjuice potion" but it is great at targeting a specific concern. Like wrinkles (not the aches unfortunately).
What is Hyaluronic Acid?
Hyaluronic acid is a key component in a serum. It is sugar found naturally in our skin that holds up to 1,000 times its weight in water. It keeps our skin moist and healthy for the most part until the battle against aging swings the other way. It also protects you from everything that is harmful out there like pollution, UV rays and so forth. This is where the hyaluronic acid serums, injectables and supplements come into play. Not just for that elusive youthful glow, it also serves to protect.
Hyaluronic is typically labelled as sodium hyaluronate (INCI=Sodium Hyaluronate) on the bottles but the size of the molecules used is often neglected. The heavier the molecule the harder it is to penetrate different levels of the skin. Molecules with lower molecular weight are smaller, and can therefore reach the deeper layers of skin sustaining the skin's moisture content.
Photo Credit: Native Essentials
Introducing Doers of London Hydration Serum
Uses: A lightweight formula which hydrates and feed the skin. This facial serum rapidly absorbs to nourish and plump the skin.
Active Ingredients: Plant- based Hyaluronic Acid, Organic Aloe Vera, Organic Kiwi Extract
Clean?: Yes. No Paraben, No Mineral oils, No Silicones, No SLS, SLES, No DEA, TEA, No PEGS, No Synthetic Colour, No Synthetic Fragrance. 
About the brand: Doers of London believe that premium products shouldn't be a luxury. Using high quality ingredients and a simple daily routine that gives you the confidence and the time to focus on what's truly important. Certified Vegan and Cruelty free. Doers of London mission is to create a premium natural range to reboot after the daily grind.
Key Ingredients
Plant-based Hyaluronic acid
Being major supporters of the cruelty free movement, the hyaluronic acid used in Doers of London is plant-based. It was never an ethical dilemma but more of a "hell no" when it came to using the red bit of a roosters head. Yes, that is where animal-based hyaluronic acid originates from.  
Three distinct molecular size to lock in moisture
Doers of London Hydration Serum formula uses three distinct cellular sizes to lock in moisture at different skin depths. High-weight hyaluronic molecules form a moisturising matrix on the skin surface where they can deliver the most visible results with a shorter life-span. Low and medium-weight molecules penetrates the skin to store hydration deeper.
Volume: 30ml
Feel: Extremely lightweight and super absorbent. Perfect for usage daily.
Scent: Fragrance free.
Packaging: Just like the product, the clean – no frills – packaging comes with easy to use droplet.
Results: Skin feels plump and nourished immediately after application. For maximum benefit, apply Doers of London Hydrating Face Cream after application of serum.
Comparing similar hydration facial serum products
Tom Ford Research Serum Concentrate
You should not put a price on skincare. Let Tom Ford do that for you. If money is not an issue then this my decked out friends, is as close to the fountain of youth as you are going to get. 3 years and 74 LAB trials was all it took. Powered by everyone's mate in Caffeine, the effect is a potent boost in hydration, brightness and smoothness.
Key Ingredients: Caffeine, White Porcelain Cacao, Gyokuro
Texture: Medium texture gel consistency
Volume: 20ml
Price: SGD503
Estee Lauder advanced night repair
Extremely effective as it is iconic, it lands itself on "top ten" list of serums on multiple publications and deservingly so. Estee Lauder's ChronoluxTM  Power Signal Technology speeds up the skin's natural repair processes and increases the production of collagen for firmer skin. This is what you get when you leverage both Science and Nature. Amazing.
Key ingredients: ChronoluxTM  Power Signal Technology comprised of natural ingredients, a ferment, a plant extract and an exclusive synthetic peptide.
Texture: Light weight gel-like consistency that spreads easily.
Volume: 50ml
Price: SGD81
Our Verdict
At SGD$36 it is hard to make a case for it being the best serum on the market when compared to the big hitters. But pound for pound, the Doers of London Hydration Serum will go the proverbial 12 rounds. That! I am sure of.