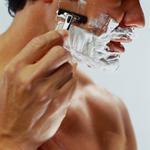 DeckOut Guide: The Smoothest Shave
I can't go a day without a shave. Scruff may look good on every other guy out there, but I prefer to keep sans stubble. Whether you're reaching out for your shaver on the daily, it's your first-time putting blade to skin (it's not as complicated or dangerous as it seems) or even if shaving is a yearly ritual for you here's a step-by-step guide to getting the smoothest shave in the comfort of your own bathroom.
This guide is for the use of cartridge razors, look out for our safety razor guide in our next article.
The Hardware


Before trimming that facial hair the you first need to decide is what type of shaver to opt for. There are two types of shavers on the market: Catridge Razors & Safety Razors. Cartridge Razors are your Gillettes and Bics, you can pick them up at any major retailer or hypermarket. They're relatively inexpensive & they're fuss-free when it comes down to it. Safety Razors are little bit more advanced, with an exposed blade you'll need a bit more practice & skill but it also provides a much closer shave.
Tip: More isn't always better, razors with more blades tend to increase the chance of razor burns, cuts & irritation. If you have sensitive skin, opt for a 3 blade than a 5 blade.
Bolin Webb R1 Monza Red - Gillette Mach 3
Clean Skin


The first essential step when it comes to shaving is to start with clean and hydrated skin. This helps keep the razor from getting overloaded with dead skin cells, which reduces its efficiency. Use a face scrub or wash to remove oil, dirt, and dead skin, preparing your skin for a comfortable shave.
Tip: Face scrubs aren't used on the daily. Add it to your personal regime two-three times a week, it'll keep your skin exfoliated and reduces the need to constantly toss out your blades.  
Doers of London Hydrating Face Scrub
Skin Prep


I've personally been guilty of using soap instead of shave cream when in a tight spot. What I found post-shave was my skin felt extra dry & flaky. Opting for a shave cream or gel hydrates hairs, improves razor glide, and helps protect against irritation. Plus, it's easier to catch which spots you've missed.
When applying shave cream, do so in an upward motion, so as to lift the hairs up and away from the face. This results in a smoother, more precise shave overall. 
Tip: Shaving gels are slighter denser when applied which translates to a smoother razor glide & more protection for the skin. But if you're looking for a quicker & fuss-free shave, opt for a shave cream instead.
Hanz de Fuko Invisible Shave Cream
Blade to Beard


Here are 5 evergreen tips when it comes to shaving:
·       Go with the grain. Just like serving up steaks, go in the direction that your hair moves. A quick way to figure this out, is to run your hand over your shaving area. If your hand runs over it smoothly, instead of feeling the friction of resistance, you're going the right way.
·       Feather light & gentle. Use light, gentle strokes, letting your razor do the work. Too much pressure and you'll be taking your skin along for the ride.
·       Rinse. A LOT. Between each shave, rinse out your shaver before going back. This helps ensure that your blade is free of loose hairs & it at its optimal performance.  
·       Keep it cool. After the shave, rinse your shaving area with cold water. This helps close your facial pores, making them less receptive to bacteria.
·       Clean up & storage.  Keep your blades clean & sharp. Rinse your blade with hot water and then store it upright in a cool, dry place, until your next shave.

Tip: Dull blades can cause a whole lot of friction leading to razor bumps leaving your skin red & irritated.
Gillette® Mach3 Razor Blades Refill
Final Touches


You might be tempted to skip after-shave products, but there's a reason why there are tons of after-shave care products in the market. Aftershave products help calm & soothe your skin, here's a short guide to pick one best suited for your needs:
Balms: Recommended for sensitive or dry skin. Balms moisturize the skin without leaving an oily residue.
Gels: If you're looking for a refreshing feel post-shave, opt for aftershave gels. While they're less moisturizing than balms they're great at protecting and maintaining healthy skin.
Lotions: With the highest alcohol content, lotions can have a slight sting for freshly shaved skin. While lotions tend to have antiseptic properties & boast exquisite scents, they can dry out and irritate the skin so use with care!
Tip: Opt for products that contain shea butter & aloe vera or natural oils such as avocado, coconut or jojoba, which all have healing and moisturizing properties.
MÜHLE Aloe Vera After Shave Balm
With this quick & handy guide to shaving, you'll be stepping up your grooming game in no time. Now go forth & look your sharpest!
Looking for more grooming guide & tips? Look out for DeckOut Guide articles coming soon.