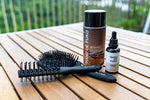 Tool kitting. A key essential you're probably missing. You may have all aspects of grooming mastered - skincare, hair care, dressing. Your dress might be decadent, suit dapper, accessories on point. Heck you might have found the perfect hair style along with a matching styler for you. Or so you think.
However you're missing a few key ingredients to perfecting that masterpiece of a mane. You may think a comb is just a comb, what's the use in that? Well a well manufactured comb has anti-static properties and helps straighten out hair leaving it tame for lavish styling, a perfect canvas for any masterpiece waiting to be created.
Introducing By Vilain combs. Professional grade styling tools to help you beat out the competition, with immense options to choose from there is definitely one for you.
Hair Oil
Just like everything in your life, your hair needs a little maintenance. Hair oil is great to help detangle your hair, improve and protects from damages, however, some hair oils out there leave your hair oily and don't do much in terms of what they're meant to do. Good thing Hanz de Fuko has got you covered.
Hanz de Fuko Hair Oil has a perfect blend of 4 essential oils
Argan Oil to help get your hair as elastic as Mr Fantastic, adding shine
Jojoba Oil to get your hair as thick as it can be whilst reducing hair loss
Vitamin E Oil which helps strengthen hair right from the follicles
Grape Seed Extract perfect in promoting hair growth like never before
The Hanz de Fuko Hair Oil can also be used on beard. It helps to soften, hydrate and condition the facial hair.
Dry Shampoo
From hair oils to quick pick-me-ups. Ever heard of Dry Shampoo? A revolutionary product which you've been needing for lazy mornings to a real life saver from an after gym appointment to quick styling and hair health maintenance.    
Hanz de Fuko Dry Shampoo comes with a quick dry and colourless formula which absorbs excess sebum, sweat and styling product. If these are left unchecked, they will block hair roots which may cause hair loss and dandruff! The paraben free Hanz de Fuko Dry Shampoo can also be used to turn any shine product into a fully matte look with just a couple of sprays.
Watch how the Dry Shampoo is used by Hanz de Fuko Global Ambassador Taylor Armstrong.