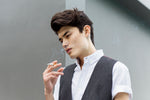 Adding Gravitas To The Man's Mane
Far too many times have I looked at my man and admired just how perfect he is: the chiseled physique (not really, but that's fine) and the ability to deal with me on a daily basis (mostly, that's it). But then when it comes to the hair, I must say he is no Robert Pattinson, and is thus unable to have his hair dishevelled in precisely the right places.
Ask a lady who cares for her tresses – hair must be styled, especially if in that length in between a crew cut and bob. No mohawk or undercut can shine in its full glory, unless styled.
Now you must understand. My man's hair has once been likened to Goku's explosive mane (google it if you don't know who Goku is. And yes, you're probably born in the 90s!) – while such hair volume opens up a myriad of hairstyle possibilities, it also means that his crowning glory cannot be left in its natural state. As I have told him time and again, some things just cannot be left to chance – I cite the layers of nude makeup that I put on to achieve the natural look as an example.
And so started my man's painstaking search for that hair product that would help him tame his mane. Unfortunately, he's come to realise on this journey that the perfect hair styling product is almost non-existent. They are either too slick, too soft or too sticky. Most of the time, they also have little resolve against the humid Southeast Asian weather. For the benefit of the non-Southeast Asian based readers, humidity levels can go above 90% here. Yes, above 90%.  
There are just too many obstacles standing in between me, my man and the perfect hair – and then I was asked to look into the Hanz de Fuko lineup, particularly Gravity Paste.
At first glance, Gravity Paste ticks all the right checkboxes: The product contains a revolutionary technology called "Super Grip" that promises to uplift one's look in a matter of minutes. Techy grooming properties – a man's dream. 
Upon opening up the jar, it is the scent of spearmint that first hits you. Unlike the usual pomade that makes my man smell like a fifties barber shop, the Gravity Paste instead smells clean and refreshing.
The application was easy: He picked out a 20 cents coin-sized amount from the Hanz de Fuko jar, rubbed the creamy paste between the palms. As he spread the paste on his palms for a good ten seconds, he could feel the "Super Grip" technology kicking in. The paste got tackier the longer he spread the product on his palms. He looked at me and said… "I'm in for some super hold magic". 
As my man started applying the product, he noticed, pleased, that quite unlike most other styling products, the application was smooth. While it was tacky on the palms, it spread across the hair pretty easily, allowing him to manoeuvre his hair till he was satisfied with the style. The final result is a polished but natural look, including a medium sheen that coats the hair, giving it a healthy shine. Most of all, my man doesn't look like he tried too hard – I like that.
The woman is always happy when her man is a little more effortlessly perfect. Thanks to Gravity Paste, my man is effortlessly perfect.