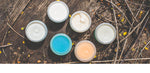 How to choose best hair wax ?
Wax on, wax off. Wax on, wax off. Ok, if you don't get our drift, you're probably too young. Or we are showing our age. Either ways, please go watch Karate Kid (the 1984 version, not the one with Will Smith's kid which was good but nowhere as good as the first one).
We digress. Hair wax is known as a thick hairstyling product and it usually holds hair pretty well. The good thing about hair wax is… it's pliable and it'll remain pliable throughout the day as it doesn't dry out much. This is of course, if you don't use the horrible waxes sold in supermarkets or pharmacies. Nothing against the brands they sell but… they are really NOT GOOD FOR YOUR HAIR!
Waxes have gained popularity in the last decade and you can often find them with labels such as "putty", "glue", "moulding gum", "paste", etc. Wax is wax… and you'll find only the best hair wax at DeckOut.
For the best hair wax, try the Hanz de Fuko Sponge Wax is a built yet flexible creation is the jack of all hair solutions.
From a dry I-just-woke-up hair to a wet proper-look-with-suit hairstyle, it rules both.
Versatile, lightweight and Beckham bendable.