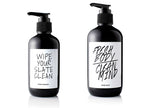 DeckOut Series: The Ultimate Clean
Taking a shower is muscle memory, a healthy complexion, perfect shave, and shiny beard all start with a daily cleansing. Skin is detoxified to keep bacteria, blemishes, and irritation at bay. Sebum production is balanced, and the skin is nourished. Why do we shower? Simple, it's to remove impurities and excess sebum, minimising pores without dehydrating.
The biggest ally to the shower process is the body wash and the facial cleanser, just because the body and face make up the biggest surface area! The irony is that many of us typically don't invest in good body washes and facial cleansers. We will not hesitate to use the mass brands to wash our skin just because it's value for money (or rather, dead-ass cheap) or because they smell like mint or your deodorant.  What many don't realize is that most mass cleansing products contain harmful chemicals that are harsh on our skin, taking away essential oils that your skin needs to stay healthy. Yes, they clean well, but we'd say… too well. It's time to invest in better body washes and cleansers. There is no point in having the best hairstyle or best moisturizer when your skin looks drill and dull.
Doers of London's Facial Cleanser
and Body Wash
are two products we'd recommend. Both contain natural ingredients like Organic Green Tea Extract, which contains polyphenols with antioxidant and antibacterial properties.
The Body Wash packs a punch with Green Coffee and Avocado Oil, both of which contain vitamins, minerals, and anti-oxidants which reinforce, smoothen and enhance the skin texture. Amongst the key ingredients are Frankincense and Bergamot, which are your natural allies in fighting against body odour, while the natural fragrance aids relaxation, and reduces stress. Yes… you can say "Wow" now.
The Facial Cleanser includes Jojoba oil in its formulation, an ingredient with properties very similar to the skin lipids produced by our body to naturally protect the skin. It's also a source of easily absorbed fatty acids that softens and protects the skin. That's why the Facial Cleanser came in tops as the best facial cleanser in the August Man 2019 Grooming Awards
Get the Doers of London Facial Cleanser and Body Wash Duo Pack here.